Interior Plants
Interior Plants & Maintenance Service
Creative Interior Plantscapes offers the best in interior plant maintenance. Through a professional consultation with you, we can recommend plants that are best suited to your individual needs. Check out our Plant Selection Guide and our Container Guide for some great plant ideas. Whether it's your, home, office, restaurant, or hotel, our wide variety of tropical indoor plants and decorative containers fit any budget and design style.
The Plantscape Process
Step #1 – Plants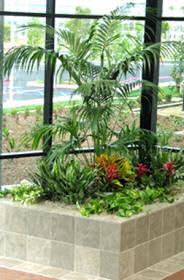 Our design staff will work with you to develop a plan that works within your budget. Selecting the right planters is critical to a good design. We'll discuss what you like and what you don't. Our tropical plants and trees will be chosen for your specific environment.
Plant selection is determined by:
your available light levels
the dimensions of the physical space
the desired impact
your traffic patterns
the HVAC limitations
Step #2 – Proposal
We will create a comprehensive proposal detailing all of the suggested products and services.
Step #3 – Selection
After your approval, we will hand select your plants from the best nurseries in the country and ship them to our facility. Once at our facility the plants will be carefully unpacked, cleaned & pruned. The foliage and the roots will be checked for overall health and for insects. Excess fertilizer is removed. We will communicate with the planter manufacturer to make sure that the planters are the exact size needed and that they will perfectly match the desired color. The shipping with the plants and the planters will be coordinated to arrive around the same time. All products will arrive and be shipped out in a prompt manner so they will be fresh and un- damaged when they arrive onsite.
Step #4 – Installation
Our professional installers will deliver the plants in a temperature controlled vehicle. They will be carefully arranged in their final locations so that the best side is facing out. Finally, the installer will clean up any dirt or debris leaving your space as clean as when they arrived.
Step #5 – Maintenance
Routine maintenance will begin. We will show up promptly on the regularly scheduled days. Your plants will look will be watered, pruned, dusted…any work that is needed to keep them healthy and vibrant looking will be performed.
Step #6 – Enjoyment
You will enjoy the connection with nature that plants bring. You will never have to worry about any plant care, sick plants or purchasing replacement plants. With our guaranteed plant replacement program, you'll never look at another dead plant again and you'll truly experience the best plant care service.
Pages Interior Plants: [
1
] [
2
]